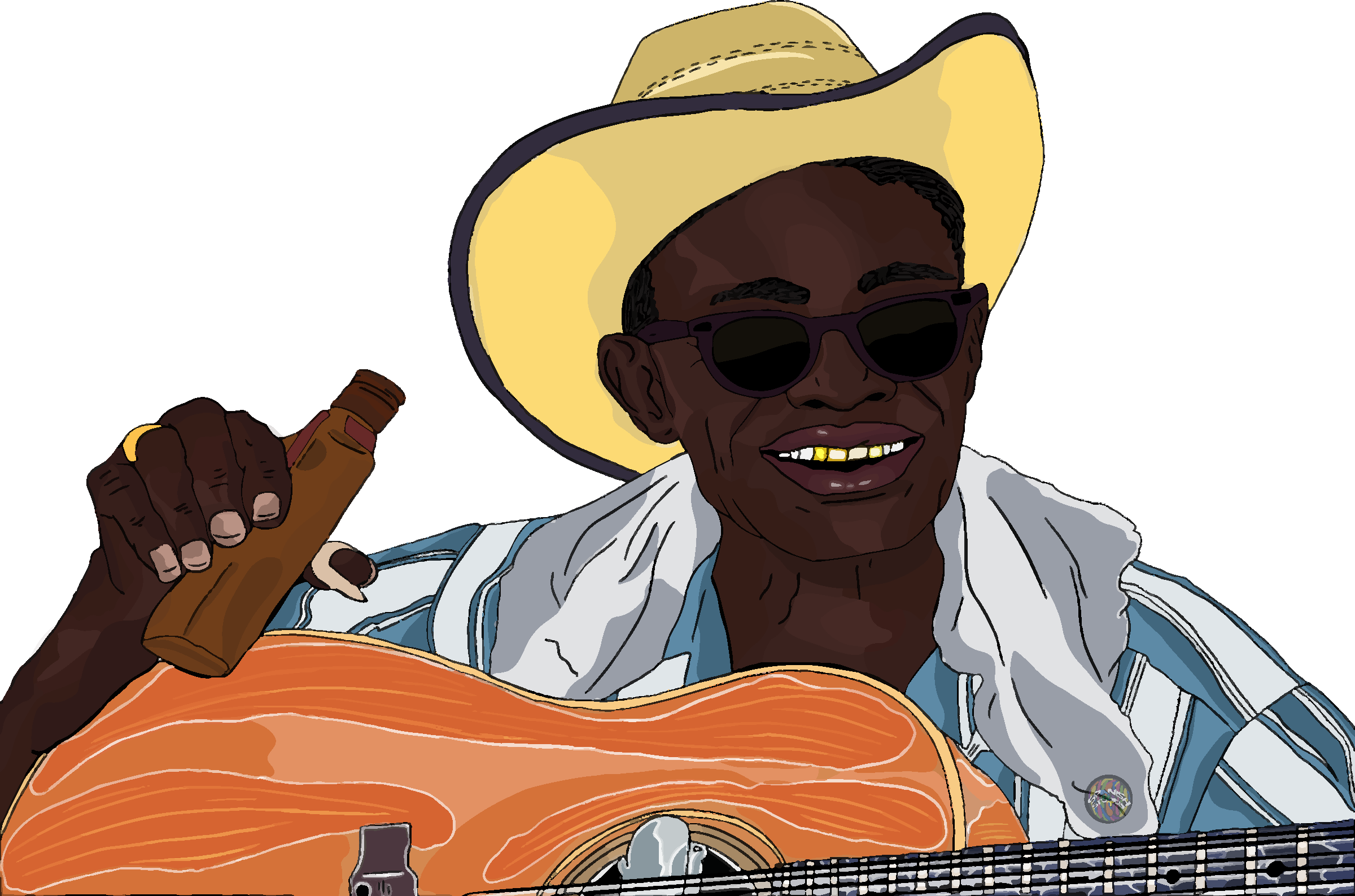 Lightnin' Hopkins by Satchel Zabala-Beltre
BY CHRISTIAN TAYLOR

ALL ART BY SATCHEL ZABALA-BELTRE



"I always think of Third Ward as one of America's great neighborhoods. Within the community, we have the activism, culture, cuisine, and the intellect. From the Shape Center, the Eldorado Ballroom, Frenchy's, Texas Southern University, it's all here. Growing up in a community like this amplifies a kind of Black pride that was important for me to carry along on my journey to another great American neighborhood, Harlem. I had the feeling that everything I'd ever need was within 77004.

Within Third Ward is also the barrier of the bayou. There is something about having a "river" swell and recede that though it is not as historic as the Mississippi River, that relationship is firm in the minds of every resident during a storm. Most of all, I think Third Ward feels so special because it is filled with families that have been there for generations. I have watched gentrification sink its teeth into Third Ward, but we still hold our truths for the neighborhood to keep the bones strong.

The architecture of Third Ward makes it feel like a village, from the shotgun houses to the railroad and bike path that courses through it. It is also the wild dogs on the street, and the fried fish cooked on the corner. Third Ward is a village. I think enough of life is heard on these streets that easily translates into the music. From the howl of the train whistle to the barking dog, the sound of the neighborhood is an orchestra unto itself. It's still a country part of a metropolis."

- Jason Moran, 2021
What are the blues? A question as old as the genre itself, the blues are hard to pinpoint. As Grammy-award winning recording artist Van Hunt told me, "You could ask me this question every day and every day I'd have a different answer; because the blues are exactly what you need — when you need it."

At the start of this project, I was on a quest to draw a linear connection to seven different guitarists who were born, raised, or lived in my native Third Ward, Houston, Texas: Sam "Lightnin' Hopkins, Clarence "Gatemouth" Brown, Albert Collins, Johnny "Guitar" Watson, Joe "Guitar" Hughes, Johnny Clyde Copeland, and Marion "Little Joe" Washington. These figures were each uniquely talented, troubled, feared, and revered. The similarities among them could not simply be boiled down to a single musical note, a guitar model, or the subject matter of their lyrical compositions. They all strove to develop a unique voice through their instrument. The competition was fierce, and while influences were inescapable, they each understood that you couldn't be a carbon copy of the next guy.

Certainly, at times there was a sense of comradery among the collective throughout their careers, but no one willingly accepted a backseat.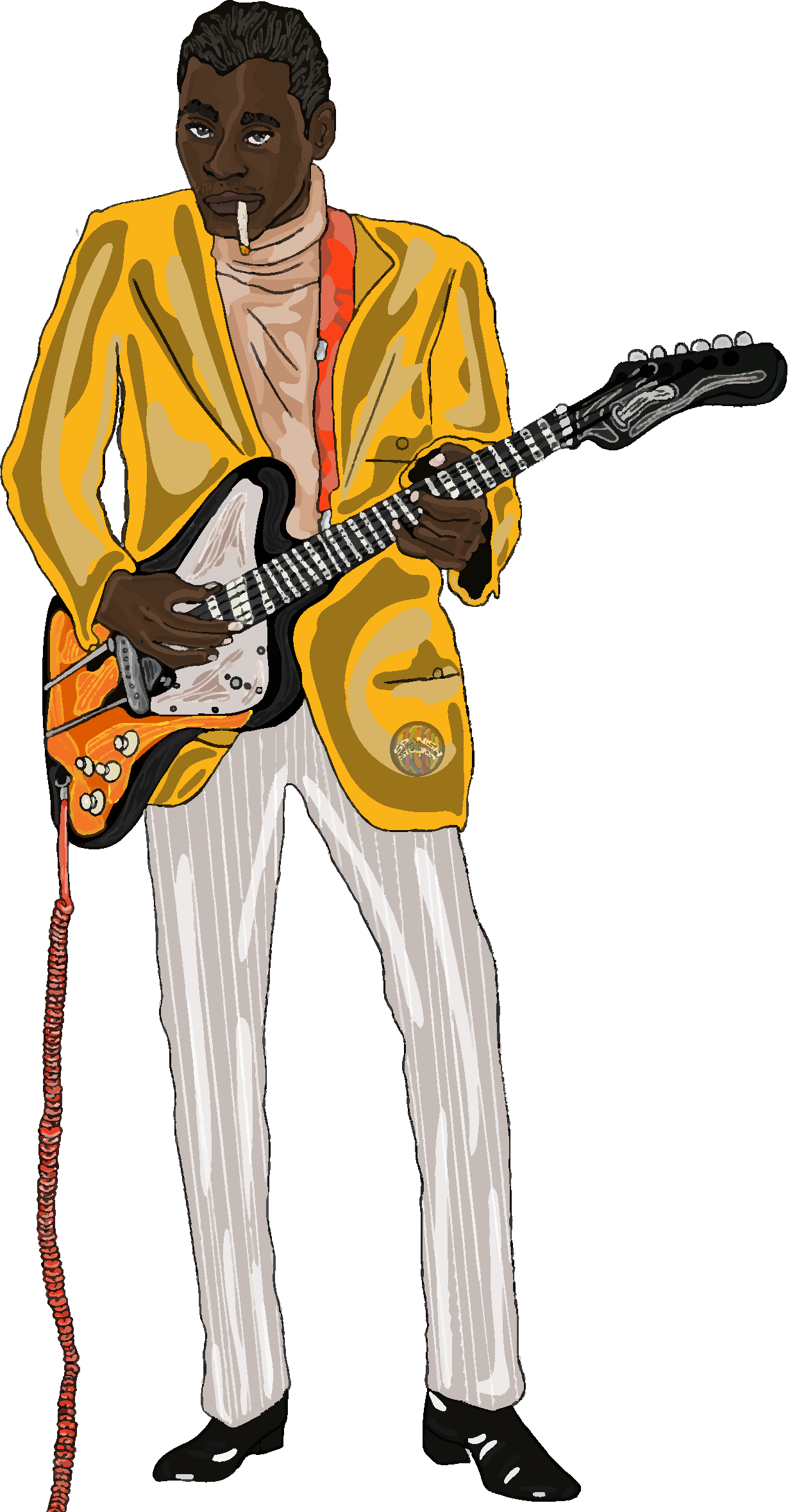 Drawing by Satchel Zabala-Beltre


Third Ward is not Houston's oldest black community, but by the early 20th century it was the largest. The neighborhood featured a prominent business district centered on Dowling Street (now Emancipation Avenue). By the 1950's, the Third Ward was known for live music. Houston's lack of zoning regulations fed this eclectic music scene. In the neighborhood, bungalow houses or local shops bought cases of beer, put them on ice, and operated as an evening juke joint. Lifelong Third Ward resident Mary Bennett recalls, "Shady's Playhouse. That's where they would all go play. They had a band just about every night." Young musicians in the neighborhood grew up in casual joints like Shady's Playhouse, Club Ebony, or Club Savoy, and often ended up playing renowned upscale venues like the El Dorado Ballroom.

By the time Third Ward had developed a robust live music culture, one man was already a local legend: Sam "Lightnin'" Hopkins. Born March 15, 1912, in Centerville, Texas, Lightnin' Hopkins was the patriarch of the blues guitar in Third Ward. Hopkins first moved to Houston in the late 1930's and made Houston his permanent home in 1946. Lightnin' carried his Texas countryside ties to his new urban stomping ground. He used this charming and rugged rural upbringing, endearing himself to Houston until his death in 1982. Local accounts of Hopkins riding the Houston city bus pre- desegregation and playing impromptu concerts for riders fueled his legendary status. Few people were as beloved as Lightnin' in Third Ward. Houston blues historian Roger Wood said, "His strong personality and his presence in the community created this kind of potent mythos about what a bluesman was". Lightnin' Hopkins' greatest influence on future Third Ward guitarists set the standard for what a bluesman was supposed to be.

Despite his country roots, Lightnin' did not have the appearance of a Centerville-born sharecropper. Hopkins sported beautiful gold teeth, jet black sunglasses, and a fedora perfectly cocked to the side. This combination of genial countryman mixed with urban cool prevailed in many of his recordings and performances. Lightnin' rarely performed the same song twice in the same way – often improvising lyrics as the song went on. As jazz pianist and educator Jason Moran put it, "Texas blues settles in. Lightnin' settles into his stories in a way that says "I ain't leavin'."

Lightnin's iconic status nationally and in the Third Ward grew due to the blues-folk revival of the 1950's and 1960's. Suddenly, Lightnin' became an everyday fixture in the neighborhood, shooting dice in the alley one day, and playing major gigs in Europe or Japan the next. Roger Wood believes, "That's a big part of Lightnin's influence. He showed these guys that that the old roots still had juice and there was something still worth chewing on there." Despite Lightnin's career renaissance, his old school style of fingerpicking took a backseat to the newer sophisticated styles of jazz, R&B, and rock & roll music. Ultimately, Lightnin' represented the country days. Young musicians growing up in Houston couldn't understand much of the life that was prevalent in Hopkins' music. Wood continued, "Even when he's playing electric guitar, he's still got something that you can't just say it and make it happen. It's got to be real. He's got the connection to the battle days, the country days, the sharecropping days and what preceded that."

Younger local musicians gravitated to the cool, elegant, progressive sound of T-Bone Walker. Lightnin' died in 1982 in Houston and remains one of the most celebrated bluesmen of all time.

Full story in print. Order here.
Dedicated to my grandmother: Margaret Elaine Lawson-Hutchins


Thanks to: Elneita Hutchins-Taylor, William Taylor III, Lawrence Battle, Mary Bennett, Zack Bastian, Imani Bordeaux, Colin Chambers, Julie Haines, Van Hunt, Jason Moran, Anthony "Fat Tony" Obi, Eddie Stout, Kellye Taylor, Royce Taylor, Sonny Boy Terry, Virginia Watson, Roger Wood, Satchel Zabala
ESSENTIAL THIRD WARD BLUES PLAYLIST


1. "Shotgun Blues" - Lightnin' Hopkins
2. "Space Guitar" - Johnny "Guitar" Watson
3. "Cold Strings" - Clarence "Gatemouth" Brown
4. "Frosty" - Albert Collins
5. "Someone Loves Me" - Little Joe Washington
6. "Houston" - Johnny Copeland
7. "Cuttin' In" - Johnny "Guitar" Watson
8. "Dirty Work at the Crossroad" - Clarence "Gatemouth" Brown
9. "The Freeze" - Albert Collins
10. "My Baby's Gone" - Lightnin' Hopkins
11. "I Feel Alright" - Little Joe Washington
12. "If You Want to See the Blues" - Joe "Guitar" Hughes
13. "Three Hours Past Midnight" - Johnny "Guitar" Watson
14. "Bossa Nova and Grits" - Little Joe Washington